Dear Friends and Neighbors,
         I hope you are well. I wanted to let you know and to also ask that you pass along to our Schenley Road and Evergreen neighbors the following.
         After more than twenty years at our location on Schenley Road, Baltimore Mediation is relocating. It has been two very good decades. We are sad to go and wish we did not have to, but you may be aware that our 17 year old son, Archer, on a beautiful August beach day in Cape May last summer dove into the Atlantic Ocean and shattered his neck when he hit a sandbar. He is now a quadriplegic, paralyzed from the top of his chest on down. We are grateful he is alive and thank God for that. But we have had to sell our building and change a number of things.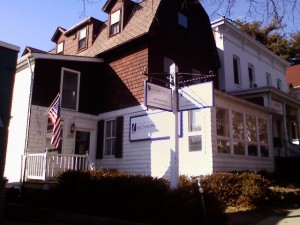 We wanted to find the right buyer for our neighborhood and we hope we have. I'd like to introduce you to the new owners, brothers, Jim and Stuart Little.  They are in the real estate business here in Baltimore currently off of Wyndhurst. They plan to do some construction but to keep the integrity of the building externally while redoing the inside to open it up.  The inside construction will last approximately seven months. I hope it will be a lovely improvement as well as honoring the integrity of our neighborhood with a quality low traffic business.
       I've also told them about the gardens started out front and I hope the tradition continues.
       We will miss you all. Thank you for all your care and community and referrals over the years.
       Our new location is in the Union Mill, 1500 Union Ave, Suite 1310.  Our telephone number is the same,
443-524-0833
.
       Right before Archer's accident, we had started a non profit, ORANS: the campaign for Relational Leadership, an outgrowth of our book,
Being Relational: the Seven Ways to Quality Interaction & Lasting Change 
which launched in bookstores and on Amazon in early September. We hope you might read it; copies at Eddies and the Ivy as well as Barnes&Noble. If out, please ask them to reorder. We'd love to also stay in touch with you through 
www.joinORANS.org
and also
www.BeingRelational.com
where I write about our son.  We will of course continue our mediation practice in divorce, trusts and estates, workplace and business issues helping people dialogue and make informed decisions and terms of agreement. Please allow us to remain serving you and those you know. Come visit us too in the new location. We will miss Evergreen.
Good bye and until next time,
        Louise Phipps Senft and the Baltimore Mediation team